Perfect all year round organic wool duvet- most natural sleep experience
Our luxury organic wool duvets are handmade in the UK from select finest quality organic British wool.
Wrap yourself in pure comfort each and every night! Wool is ideal all year round, keeping you cool in summer and cozy in winter. It offers great thermal insulation, yet prevents overheating by keeping moisture away from your skin due to its capacity to hold over a third of its weight in moisture. The wicking properties of the fibres allow rapid evaporation leaving you feeling refreshed. Compared to other types of common bedding fills like feather, down, and synthetics you'll notice a difference immediately. Our organic duvets are designed to keep you sleeping for longer at just the right temperature.
Our organic wool duvets are free from chemicals and fire retardants providing a 100% natural, clean sleep.
Need pillows? Browse through our collection of most comfortable organic pillows.
Organic certification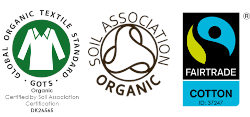 Meet Sleep Organic - Richmond, UK
Nisa Shah and Chris Murphy launched luxury ethical bedding brand, Sleep Organic, in 2018. As a biologist and sleep expert and a strong textile heritage they've brought their passions together to help people sleep better in soft, natural bedding that gives back to the planet.